Silver balloons make great 25th wedding anniversary decorations. Mix shades of silver to get the most sparkling display for your party. Silver foil balloons, silver swirled balloon arches, and rich balloon centerpieces wrapped around silver candlesticks can be elegant, sophisticated, and absolutely charming.
No matter where the 25th anniversary party is being held, you can use gossamer, sheer fabric to decorate tables, make sashes for windows or archways, and crowd the ceiling with silver balloons. Use shiny silver curling ribbon for the balloons and attach small, black bows to the ends. Your balloons will look like well-dressed guests.
When a couple makes it to their 25th wedding anniversary – it's a landmark occasion.  Marriage does not come without its challenges, struggles, and heartache.  It's a lot of work to make it this far.  Create a party that lets the couple know you recognize the effort they've put in to setting such a wonderful example for their family and friends.   An evening party with a balloon drop at midnight while their favorite song is playing and everyone is dancing will be a night they'll remember forever.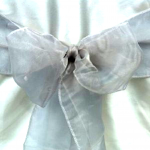 Wrap party chairs in silver chiffon and tie them in white or silver tulle bows depending on the overall color scheme and time of day.  Or add a touch of radiance with some iridescent bows in blue or purple.
For centerpieces, float silver tea-lights in small bowls of water with rose petals or place silver celebration bells in the center of each table.
Silver champagne buckets on each table can hold a champagne bottle, small silver orbs,  or flowers.  Provide a special pair of silver-trimmed champagne glasses for the couple engraved with their' names, their wedding date or a special quote.
Use white balloon columns topped with silver stars around the room and use a large pair of columns for photo opportunities.  Use the photos to create a memory book you can give to the couple after as a memento of their special 25th wedding anniversary.