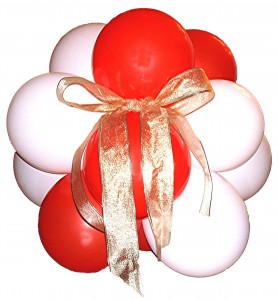 This balloon decoration is so flexible, easy and works for almost any occasion including birthday parties, weddings, as a centerpiece or hanging from the ceiling. Use it for an anniversary party, a special holiday or anytime you don't want to spend a lot of time on balloons but want lots of great color to liven things up.
I used 12 twelve inch balloons (6 white and 6 red) inflated with an air pump (no helium) to make this giant balloon ball. It measures 26 inches across and 26 inches tall and it took less than 10 minutes to make.
I added a gold, wire-edged bow using some ribbon I had left over from Christmas present wrapping. I could have made a larger bow but here's exactly what makes this balloon decoration so flexible – I could have added just about anything to it!
Add a large bow to each side
Entwine a length of greenery from the craft store around the balloon ball
Tuck fake flowers between the balloons
Attach paper butterflies
Stick adhesive gems to the balloons for a balloon disco ball
Wrap it in blue crepe paper streamers for a July 4th decoration
Attach bunches of ribbon curls to dangle from the bottom
Use red heart shaped balloons instead of round ones for Valentine's Day or a wedding
You can use smaller, 5″ balloons to make a centerpiece, mix up the colors to create your own pattern, or do the balloon ball in all solid colors.
Balloon Decoration Instructions
Inflate one white balloon to full size and pinch it closed in your hand while you inflate a second white balloon to the same size.
Tie off the two white balloons together to form a pair of white balloons called a duplet.
Make two more white balloon duplets.
Use the same steps to create 3 red duplets of the same size.
Take one white duplet and one red duplet and twist the pairs of balloons together at the center, wrapping one white balloon up and around a red balloon to secure them together.
Alternating between the remaining red and white duplets, attach one duplet at a time by twisting them around the center of the growing balloon ball.
Attach a bow using fishing line or an un-inflated twisting balloon in a matching color.
Finish by rearranging the colors as needed to balance the colors from every angle (all red in the center, alternating red and white, or all red on one side and all white on another)
Hint:  take off any sharp rings or bracelets while working with the balloons.  My wedding ring has been the death of a number of balloons.
There you have it! A super simple balloon decoration for any occasion.