Balloon supplies are one of those things you don't think about until you're planning a party. However, taking the time to stock up and organize your balloon supplies gives you the opportunity to easily decorate for any occasion, especially for last minute parties or events. Many of us plan the decorations right before a specific event, buy just the necessary amount of balloons, make the decorations and then store any leftovers in some sort of organizer, closet, bag, or drawer (or – heaven forbid – the garbage!)
Those extra balloons often don't match each other because you threw your daughter's pink and green themed Strawberry Shortcake birthday party balloons and your son's blue and purple Buzz Lightyear party decorations together in a bag and now you have just a handful of balloons in assorted colors that you can't really do anything with.
(For years, it was more than just a handful of colors in my house – it was a giant bag of assorted colors all in a jumble so that I just found it easier to buy new supplies for each party rather than figure out what I really had on hand. This is how one decides perhaps one should write about balloons. Justifies to the hubby that we shouldn't really throw them out because now I need them – and USE them!)
If, however, you stock up on some basic balloon colors AND keep your balloons organized, you are ready for anything:
Surprise your spouse when they come home from work with a nice dinner and some romantic, red balloons.
Forgot to do something for your kids on Valentine's Day? Put up some balloons before they wake up and make them heart shaped pancakes or waffles (or their favorite dinner). They'll never know.
Family coming to town? Welcome them with balloon decorations you made yourself.
Kids bored over the summer break, when it's raining or snowy outside, or just because they can't think of anything to do? Make some large balloon balls by twisting 10 balloon duplets together for a giant, floating ball and let them battle it out with a game of indoor or outdoor balloon volleyball.
(I did this a few months ago for my 6 year old and his friend. Made them each a giant balloon ball. The friend was so intrigued he asked if he could take his home to show his mom. Seemed like such a little thing to me but as it was something new for them they were fascinated!)
Need to notify friends which house is yours for a party? You guessed it – the traditional few balloons tied to your mailbox, your entry porch, a lawn sprinkler (whatever's handy…) will do the trick.
Stock Up
When you're buying balloons for a party, buy some extra to add to your backup supplies. Always have at least white, red, and blue balloons on hand. Why? Because in a pinch, with those three colors alone, you can cover:
Girl's birthday
Boy's birthday
Valentine's Day
Memorial Day
4th of July
Anniversary
Dinner parties
From there, if you have children, build up at least a small supply in their favorite colors so you have some on hand if you want to celebrate a great report card, decorate for a slumber party, or recognize a special sporting event.
Organize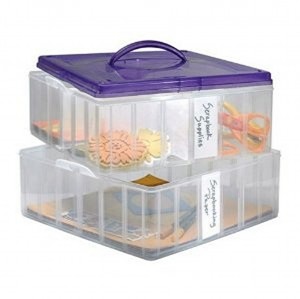 You can also buy the large variety bags of balloons.  Organize the balloons into separate zip-lock bags by color when you get them home.  Rarely do you use all the colors that come in one of those bags of balloons for a single event but looking at them all together makes it hard to tell how many you have of any one color.  Keeping them stored by color lets you quickly judge what you have available for your latest idea. Tuck the separated zip lock bags of balloons into a craft organizer, a paper bag, a cloth bag – whatever is most convenient for you.
If you don't use zip-lock bags, use some other air tight canister for storage to keep latex balloons from drying out and becoming unusable.
Maybe stocking up and organizing them seems like overkill.  They're just balloons, right?  But, it's what you do with them that makes them special and having them all nicely organized makes it much easier to add them to any day or event you want to celebrate with a little extra touch.  (Oh, and if you DO have kids – have THEM sort the balloons for you.  To them, it's a game!)