Category: Miscellaneous Balloon Stuff
A variety of balloon news, ideas, and information that doesn't really fit anywhere else.
Looking for unique balloon decoration ideas for boys? Try some of these cool balloon designs for his next birthday party: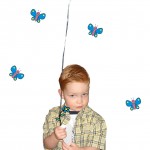 Years ago, my parents gave me a copy of Microsoft Digital Image Suite for Christmas. Like Adobe Photoshop, it's a digital image software package that lets you "play" with your digital images by removing existing backgrounds, adding new backgrounds, fixing photo mistakes, adjusting hue, changing colors, and a million more little tasks (okay, not a million – but a LOT!). Just set me loose with some new software and I'm happily content for hours. Interestingly, my children now have photo memories that never really happened.