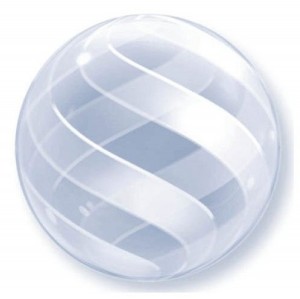 Qualatex balloons are known for their durability. They are the balloon used most often by professional balloon decorators. In addition, they make a Deco Bubble for balloon decorations that has some very unique qualities.
A Deco Bubble is part Mylar balloon, part beach ball. The material is stretchier and resists popping, even if the balloon is over-inflated. It's meant to be stuffed with latex balloons. The material provides a high shine that offsets the colors of any latex balloons stuffed inside, giving your balloon decorations a brilliance you can't get with regular latex balloons. They also last much longer than regular latex balloons and seal the helium inside more completely.
There are a number of Deco Balloons to choose from including clear
, a frosted swirl
, a flower pattern
, and frosted polka dots
. These will hold their float for days – as much as two weeks depending on the size and storage temperature!
Deco Bubble balloons do require inflation using the right regulator attachment on the helium tank. You can't use one with an automatic stop. If you are renting a helium tank to make a large number of balloon decorations, make sure the rental company provides you a tank with the right attachments for Deco Bubbles. Otherwise, you'll have to have a party store inflate these for you. Because the material of the Deco Balloon is so sturdy, it requires more pressure to inflate accurately, hence the need to bypass the automatic shutoff on a balloon tank. Without it, you'll end up with wrinkles around the edge of the balloon.
Qualetex provides complete instructions in video format on how to inflate Deco Bubbles and how to make Deco Bubble balloon decorations. They're beautiful!