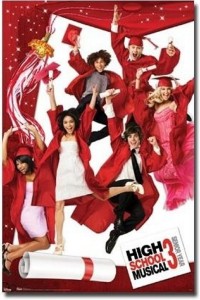 The date is rapidly approaching. You need to plan now. Stuck for highschool graduation party ideas? Here's a list to get you going.
I'm two years away from needing to organize such an event myself, but I've put a lot of thought into it. When the time comes, I want my sons to know how proud I am of their accomplishments and I want to be able to celebrate their success and transition to the next phase of their adult life with friends and family.
While this blog itself is loaded with ideas and directions for all kinds of decorations for parties, this will just provide high school graduation party ideas – themes, options for location, etc – because before you decide on decorations, you need an overall plan and sometimes that's where we get stuck…the launch point.
LIST OF HIGHSCHOOL GRADUATION PARTY IDEAS
Local Sporting Arenas – Here in Phoenix you can rent out a pool and party area that's right on the other side of the home run fence wall at Chase Field. You can party, swim and watch the game all at the same time.  See if your local sporting arenas have anything similar to offer.
The "Year you were born" Party – Kids graduating in 2010 were born in 1991-1993. Do an "early 90s" party using all the best music from that year, photos of your son or daughter as a baby (oh yeah, kids LOVE that – grin!), posters from the movies that were big that year.
Best Friends Party – throw a joint party with your child's best friend's parents. Chances are the same people are going to be at each party and pooling resources might allow you to do more than you might otherwise.
Photo Board Party – It's hard not to be a bit nostalgic when you graduate high school. You know there's so much life up ahead and that it will likely be different from those high school years. Friends will be moving on to different colleges and cities and relationships change whether you want them to or not. If you're doing a party at home but want to make it special, do photo boards to post around the room. Enlarge the best photos from your child's twelve years at school, make collages, hang poster-size photos from the ceiling – cover the area with memories. Great photos are attention grabbing and usually spark conversation.
Band Party/Rock Theme – Theme parties themselves might seem blah to a high school senior but music is almost always of interest to teenagers. Deck out your party space like a big stage, have music playing in the background, maybe set up a karaoke area, or hire a local band to perform and keep the guests entertained with live music.
Hot Movie Party – Most movie theaters will let you rent one of their theaters for just your group. Arrange for everyone to attend the latest, hottest movie and then move to a nearby restaurant for a great dinner.
Take the Show on the Road Party – Instead of staying at home how about a high school graduation party that hits the road?  Tour some local attractions that you might have missed out on the past few years while you were shuttling kids to practice, doing the grocery shopping, or working? Rent a shuttle bus and take your group from one location to the next.
Hotel Ballroom – Rent a party area at a nearby hotel. If you use their catering services for the food, you can usually get the room at a discount or for free. The added benefit is the cleanup piece of party throwing becomes a whole lot easier.
Pool Party – Fairly obvious party idea, I know. However, you can jazz it up with tiki torches and a luau theme or hold an evening party around the pool with floating pool candles, overhead awnings, and twinkling lights around the back yard.
Race track party – Teens are still fascinated with cars at this age (especially guys – in fact, I think that never goes away…). Take them to the track where they can drive fast yet under supervision and with a focus on safety (yup – once a mom, always a mom, huh?).  Locally we have a Bondurant Racing School of High Performance Driving with package deals for driver training, kart racing, race car driving. They'll help you customize an event perfect for teens.
Formal Dinner Party – Find a local restaurant with a secluded room and enjoy the benefits of a great restaurant, wait staff, and private party space.
Bowling Party – See if you can get a bowling hall for the day or for an evening. This usually includes the party area and all those lanes your guests can use. When your guests have something to do, they tend to stay longer and there's more interaction. You could arrange a "bowl-off" competition with prizes for winning teams.
Trip to Disney – Take your son or daughter and a few select friends to Disneyland or Disneyworld for a weekend. It's a trip they'll never forget and you're never too old for Mickey Mouse…I mean roller coasters.
Wii Party – Have a Wii game system or two?  Find an AV equipment rental store and get a giant screen or projector set up that you can use for the Wii so everyone can see what's going on – these are often used at conferences and events. The interactive functionality of the Wii makes it a great party game.
While putting this list of high school graduation party ideas together, I researched songs that were on the top of the billboards in 1992. One of them was "Smells Like Teen Spirit" by Nirvana. I remember the song and I was thinking what a catchy, appropriate title for a teen party. In listening to it, though, it never actually mentions the title in the song lyrics. I never realized that. However, this section of the lyrics should guide you in the objective of a party where highschool graduates will be in attendance:
"Here we are now, entertain us!"