Ladybug Balloons
Apr 28th, 2010 | By
Erica
| Category:
Balloon Sculptures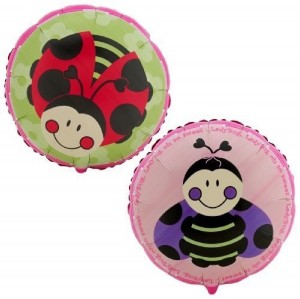 Bring a little good luck to your party with these cute ladybug balloons. Some Mylar, twisted balloon bracelets, and theme party decorations and you'll have a flutter of little flying charms.
Besides the standard red and black theme, Mylar ladybug balloons also come in pink and green color combinations with some yellow accents for a variety of party decorating ideas. Add balloon flowers for an entire garden theme where bees aren't welcome but happy, little ladybugs dance among the petals.
If you want to go all out, I found tiaras, costumes, party sets, favors and pinatas in coordinating patterns that can be used for an all-out birthday bash. (This is why I should have had at least one girl amongst my brood of boys!)
Let's start with these ladybug balloon bracelets you can make using 1 heart shaped balloon (she uses red but you could use pink), 1 white 260 twisting balloon, 1 black 260 twisting balloon, and 2 yellow 160 twisting balloons. Little girls could wear these during a birthday party.
(Warning: the music is loud when you first start the video so turn down your volume and THEN turn it back up when the demonstrator starts talking because that part is significantly quieter than the music!)
Mylar and Latex Ladybug Balloons
Now add some ladybug balloons for the party backdrop: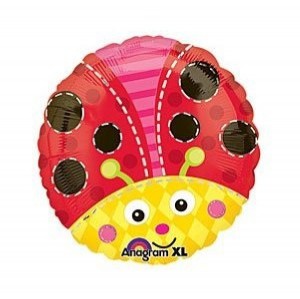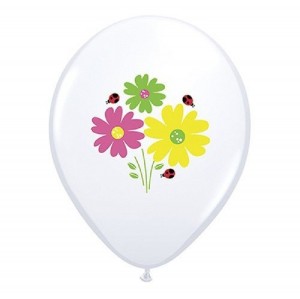 Ladybug Party Supplies
For supplies like plates and cups, Birthday In A Box has three patterns of ladybug decorations. Their sets include plates, cups, napkins, a couple of balloons (depending on the size of the set you order), party favors and birthday candles – everything you need to throw a complete party (except latex balloons):
(Clicking on any of the pictures above in this post will take you to the online store where you can find that product.)
Ladybugs love flowers (and kids) so add to your balloon decorations by making balloon flower columns and arches and adorning them with the ladybug bracelet balloons.
Little touches like adding ladybug accents to the top of cupcakes and ladybug foods like cranberries and cream cheese on celery are creative ways to carry out your theme.
If time is an issue – a simple modification would be to use red, white, and black latex balloon bunches, sprinkle in a few Mylar ladybug balloons, a cake and party favors and you're good to go!