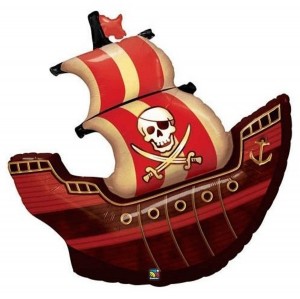 Pirate balloons are hugely popular.  As the mother of all boys you'd think I'd have loaded this site down with more ideas for decorations you could use for boys' parties.  I've noticed a need to for more suggestions for boys so I decided to do this post on pirates as my youngest has been periodically breaking out into some interesting quotes lately from a television cartoon about the subject.
For a boy's birthday party, put up some Mylar and latex pirate balloons (like the one in the intro image you can find at Amazon:  Mylar Pirate Ship Balloon) and then add in some easy-to-make pirate swords using long, twisting balloons and you're set.  Kids enjoy acting out scenes with balloon swords so you get decorations and an absolutely cheap (and safe) form of entertainment at the same time.
Check out the ideas below for some special party decorations to turn any event into an ocean ship full of "Ahoy, Maties", parrots, and treasure.
Clicking any of the images will take you to the
online store where you can find each balloon.
Pirates of the Caribbean Balloons
Jack Sparrow is the consummate pirate and we love him in spite of himself.  Kids like him, too, and there's a slew of Pirates of the Caribbean balloons you can use for birthday parties for kids or adults.
Pirate Birthday Balloons
Of course, for a birthday party you'll want the appropriate "Happy Birthday" balloons and you can get those with pirates on them, too.
Black Pirate Balloons
There's always the traditional black pirate colors with skulls and crossbones when you want less commercialism and more "old school" feel.
Pirate Balloons in Red, White and Blue
I came across this set of red, white, and blue pirate balloons. Maybe there's some significance to the combination of those colors with pirates? In either case, they could be cool on July 4th if you're looking for themed party decorations for that holiday.
Decorate Your Own Balloon Pirate Kit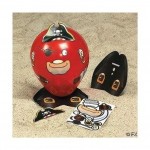 I think this is hysterical! It's a balloon kit that comes with stickers and accessories so you can decorate your own pirate balloon.
He has a hat, feet and different facial features you can put on your pirate. Could be an engaging activity for kids at a party (always helps to have something to keep kids busy when there's a crowd of them).
I know stickers can adhere to balloons easily so it's unlikely they'd fall off after being attached. A contest between the kids as to who makes the most menacing pirate makes for a prize-giving opportunity at your party.
Pittsburgh Pirate Balloons
With most of my family living in the Pittsburgh area, I certainly can't leave out Pittsburgh Pirates balloons! Perfect decorations for when they make the World Series, right?
Did you know there is even an international "Talk Like a Pirate" Day?  Created as a joke between two friends in Oregon, the idea gained popularity and is actually celebrated by wannabe pirates all over the world.  Every year on September 19th you can honor the pirates of old by throwing a few pirate phrases in your conversations.  Your friends and family might think you've lost your mind but it's still a lot of fun.
How to Make Balloon Pirate Swords
The following video will show you just how easy it is to make balloon pirate swords for your party. You can either make all the swords the same color (which offers less chances kids will complain about which color they got) or make them all different colors. Keep in mind that using gold twisting balloons will have kids thinking those swords are real gold (aren't their imaginations a neat tool?). Use one size 260 twisting balloon for each sword.
Don't forgot to load a pirate chest with gold coins (chocolate ones will do), hang a few paper parrots from the ceiling, and provide black eye patches to party guests. Then stand back and just make sure they don't pillage and plunder too badly.