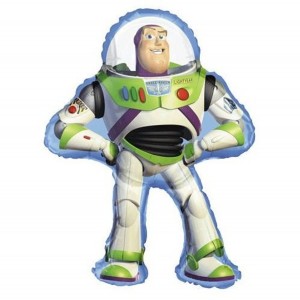 Toy Story 3 party decorations and supplies are out and available to help you put together a Buzz Lightyear and Woody party ideal for any child (or adult….I withhold all judgment!).
These characters have been a favorite at our house since my 16 year old was a toddler. Toy Story was his first favorite movie – the first where he would watch it over and over until even I could quote the lines. The Buzz Lightyear action figure was the first toy his father and I had to actually hunt down at Christmas one year (visions of Sinbad in the movie Jingle All the Way). Fortunately we found one. Of course, it was in another state but that's another story.
Toy Story 3 party decorations include cups, plates, napkins, centerpieces, balloons, and favors.
Toy Story 3 Party Balloons
Besides the Toy Story Buzz Lightyear Jumbo Mylar Balloon
, there are a number of balloons you can use for decorations including one that plays a Happy Birthday tune and several character messages:
Toy Story 3 Party Kits
Decorating for a party is a process. First, you need a base. This includes the cups, plates, napkins and tablecloth that will become the focal point for the main components of any birthday party such as the "eating of the cake" and the "opening of the presents". Once the base is decided, choosing party decorations that go with the theme becomes much easier.
There are a couple of Toy Story 3 party kits released to celebrate the latest segment of this movie. Depending on which character is your child's favorite might determine which pattern is most suitable.
Toy Story 3 Party Favors
Party favors are a great way to help younger party guests celebrate in the event by having something they can take home to play with that reminds them of the great time they had. While they can be as simple as little bags of candy tied with ribbon, they often involve the theme of the party itself. There are some really cool Toy Story 3 party favors that play on either the space ship or cowboy theme.
Toy Story 3 Centerpieces and Cake Toppers
Finishing touches for the table and cake can also be tied to the Toy Story 3 theme. The more birthdays I've thrown, the less I've ordered a cake decorated for a special birthday and the more I've customized it instead either by using toys or special mementos as cake toppers or by creating centerpieces with balloons. These ideas can help you create your own unique look and attaching balloons to the centerpieces is quick and easy. Just weight them down if you're using helium balloons so they won't float off of the table.
Toy Story 3 Decoration Ideas
The characters and scenes in Toy Story 3 give one a lot to work with if you're creating a party around the movie. One way to get ideas for party decorations is to look at posters about the movie, choose colors based on the poster, and use simple latex balloon decorations to fill in any gaps around your party area.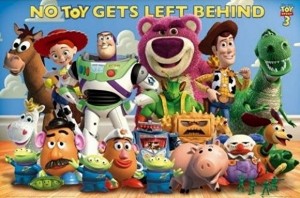 This movie is all about growing up, toys, teamwork, and friendship. This No Toy Gets Left Behind Poster
is filled with vibrant color. You could use one or two of these posters on a wall and fill the room with helium balloons in matching colors. Dangle cutouts of the movie characters to the ends of the ribbon tied to those balloons to fill up space.
Stickers adhere well to latex balloons. Use Toy Story Woody 3-D Stickers
to decorate regular latex balloons in clusters for added color.
And there's always Buzz's spaceship which can be made out of balloons using the directions for a balloon column. Just make the base wider than the top and add some cardboard fins to the side as was done in this post: Create Your Own Party Decoration Ideas.